I honestly can't think of anyone in YA who does what Marcus Sedgwick does.  Perhaps this is why I am so entranced by everything he's ever written.  Sedgwick won the Printz Award last year (that is the highest honor in young adult literature) for Midwinterblood, which remains one of the most atmospheric and overwhelming YA books I've ever read.  Since then he also wrote an amazing book about a blind girl who is not defined by her disability but by her will (She is Not Invisible) and created this week's new release – The Ghosts of Heaven.
ThenGhosts of Heaven is one of my favorite books of 2015.  I know, it's early.  But I also know that this book is special. I could give you a summary of The Ghosts of Heaven, I suppose.  It's four stories told in four different styles that can be read in any order or not even necessarily together at all. (But once you read one, you'll want to read them all, I promise.)  The one thing they have in common is Sedgwick's unbelievable sense of pacing – this man can wind a story like no one else around. The second story, The Witch in the Water, reminded me of Nathaniel Hawthorne. It is about a witch hunt and much more and the sense of impending malice and tension in it was so perfectly created that I honestly had to put it down a few times to take a breather from it. The last section, The Song of Destiny is a mystery set on a spaceship sent out to colonize a planet and it was so beautifully crafted it made me cry with joy. Now THAT is some writing.
These Ghost of Heaven is also united by the image of a spiral, which is found through-out all the stories and weaves them together in the smallest and yet also most significant ways. It's haunting and subtle and just a little brilliant to wind a story around a spiral.  And the use of the spiral is a great narrative device that makes it easy to step into any of the four stories and follow the thread of them.  The spiral is a little creepy, yeah, but also totally beguiling – which is the perfect combination in a book for teens.
Teens – yes, there's that question you're dying to ask.  Sure, Sedgwick's books are smart and LITERARY~~ but, I mean do teens like them?  Yeah, they sure would.  Look, I'm not telling you every reader is going to be on board with Sedgwick's books – but there's NO book that "every" reader is on board with, no matter what you've heard.  But I don't even think his writing is just for the NON reluctant reader (one of my favorite concepts) I think there's something haunting, creepy, compelling, and ENTICING about Marcus Sedgwick's books.  They whisper of things just out of sight, things in shadows, things you feel dance across your skin in the quiet.  C'mon now – that's perfect for teens. And for that teen that just keeps BEGGING for something new, something else, something different, something more (you know the one) … Marcus Sedgwick is perfect.
With that, this is highly recommended as a first purchase for libraries. It will appeal to a wide section of teen readers, from those looking for a challenging read to those looking for a quick short story, especially if you give it the kind of booktalk that highlights the mystery and original atmosphere through-out time.
When I had the chance to participate in the book tour for this title, I jumped up faster than Katniss at the Reaping. ESPECIALLY when I was told that I'd have a chance to ask Marcus Sedgwick some questions about the book.  One of the best things about Ghosts of Heaven is that it's simply meant to be talked about – there's so much to be discussed!
Not only that, the awesome publishers are giving away a copy – perfect for adding to your library!  All you have to do to enter is leave a comment on this entry by January 19. (US residents only)
The whole tour is pretty cool: there are reviews, more giveaways, and more interviews so you should check out the whole schedule to find out more about the book. You can also read a summary and the first forty pages.
BUT WHAT ABOUT THE QUESTIONS I ASKED MARCUS SEDGWICK THAT HE ANSWERED IN THE BEST WAYS POSSIBLE THAT MADE ME JUST WANT TO RE-READ THE WHOLE BOOK OVER AGAIN BECAUSE THEY WERE JUST THAT FASCINATING?! Read on!
Like Midwinterblood, The Ghosts of Heaven is a book of intertwined stories that COULD be read alone but work together to create a fuller picture. What draws you to writing this kind of narrative?
If it's a truism to say that all writing is trying to work out what it is to be human, then there are perhaps broadly two ways of doing that – by working from the individual to speak of the universal, or by working from the universal to speak about the individual, because both are part of being human. With these two books I was attempting to look at things on a larger scale than the individual, to talk about large and eternal subjects, and yet, the paradox of that is, as I just said, that the way to do that was by using the individual. By using stories about several individuals across different times, I was hoping to convey a large feeling, an eternal atmosphere.
Can you talk about the specifics of how you wrote this narrative? Did you write it "in order" or create the order after the individual pieces were written?
I planned the four stories (and planning for me is half way towards the finished writing anyway) in bits and pieces, flitting backwards and forwards between the four ideas in my head as I felt like it, or as I found a particularly interesting thing in what I call research, or as something randomly pushed me in one direction or another. Once I had finalized things (as far as I was going to finalize things, at least) in my head, I wrote the stories in the order in which they appear in the book – a physical book being limited in this way of course, and though this order is important, there is another one that I feel is of equal importance, but I'm keeping what that is to myself. I would like each reader to feel for themselves how the story might alter if the four parts were taken in a different order.
I am fascinated by the different narrative forms in the book – including verse to diary entries. Was this a deliberate choice to make each section have an even more unique voice?
Yes, partly, but it also stemmed from a very conscious choice about the section called Whispers in the Dark. Having decided that I wanted to set a story in a Neolithic period, in which we are witness to the very earliest origin of writing, I felt I had a problem. I cringe when I think of certain books and films that try to be authentic with stories set in prehistory. I'm thinking of films like One Million Years BC and so on, where cave men 'ugg' and 'agg' at each other and all have names with at least one K in them. The view of this stage of our history seems to require that we spoke in harsh and guttural tones. For all we know, we spoke in a mellifluous and beautifully lyrical language. But I would have had no more reason to create a language or accompanying atmosphere in that fashion either. The solution I felt was to write that part in free verse, to distance us somewhat from the world, and give it a remote and foreign feel. It meant I could basically avoid dialogue and direct narrative thought, which I felt would have been inauthentic, no matter what I did. So having one part in verse, I thought I should give each quarter a distinct narrative approach.
What are some literary inspirations for this work? Tonally, the third part, The Easiest Room in Hell, reminded me of Lovecraft and the second section, The Witch in the Water, reminded me of Hawthorne. (Maybe I'm totally off-base, but I loved the way each section seemed to allude to other classic works of literature.)
You're spot on! Lovecraft was a big influence on the feel of Easiest Room – I'd been making some road-trips through New England, and it brought back memories of reading Lovecraft as a teenager. As an Englishman, I love seeing all the English place names transposed to New England – we have such a shared history and I feel fond of it. Lovecraft of course then did his own thing on top of that, and my character Charles Dexter is a direct reference (for those who know) to Lovecraft's The Case of Charles Dexter Ward. That meant I got to write some poetry in the style that Lovecraft might have done, which was great fun. Witch in the Water has a feel of Hawthorne, I see what you mean, but that wasn't conscious, though may have come through. I was trying to recreate the tone of classic accounts of witch trials – although I set my story in England, Diane Starkey's fantastic book, The Devil in Massachusetts, captures what is scariest about all witch trials – the combination of claustrophobia and violence that propels their inevitability. I was also driven for this section by an obscure 60s thriller called Ritual, by David Pinner, from which the classic British horror film The Wicker Man was derived (and no, I'm not talking about the Nicholas Cage version!)
You never seem to write the same book twice! Even this book, which shares traits with Midwinterblood is different in pacing, setting, tone, and even theme. Are you consciously trying to innovate in your writing? Do you just get bored easily? 🙂 Where does the constant innovation come from?
Yes, yes, and I don't know. Perhaps I should elaborate on that a little bit. Yes, I am consciously trying to innovate, and yes, I do get bored easily. That's a direct way of saying that I've been writing for a reasonably long time now and I nearly stopped two or three times because I didn't know where to go next. I don't want to write the same book every time, but that makes things hard because there must be a finite number of times that I can do that. But that's what I really want to do, and it's important because to keep on doing things this way means I have to continually find something new to be excited about, and some new way of working. But I'm not complaining, I love a challenge when I'm writing and this makes sure that I keep setting myself new challenges. Where does the innovation come from? I'm not really sure, I think the only thing is that I try to be influenced by as wide a range of books, films and ideas in general in order to keep things fresh. So I don't know what's coming next. If I can't set myself a new challenge, there may be no new books at all, but if there are, I can promise they will offer something new, or something new to me, at least.
Here's me after reading Marcus Sedgwick's answers and feeling like I understood the book so much more/wanted to read it again/got the literary moods and references right: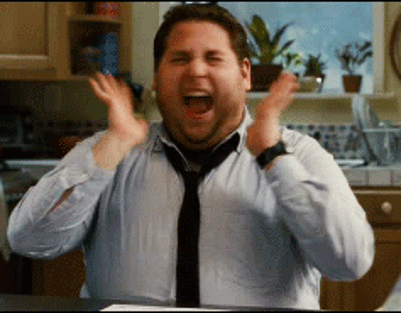 Actually, those are just my faces in general when it comes to Marcus Sedgwick's books. (I could talk for a thousand years about Midwinterblood – perfect choice, my Printz friends.  What a stunner.) If you haven't read a Sedgwick book, The Ghosts of Heaven is the perfect place to start.  Buy a copy, check it out from your library or recommend they buy a copy or …. leave a comment to enter to win one!
In any case: read it as soon as possible so we can discuss it and you can share it with your teen patrons!