It all started with Little Melba!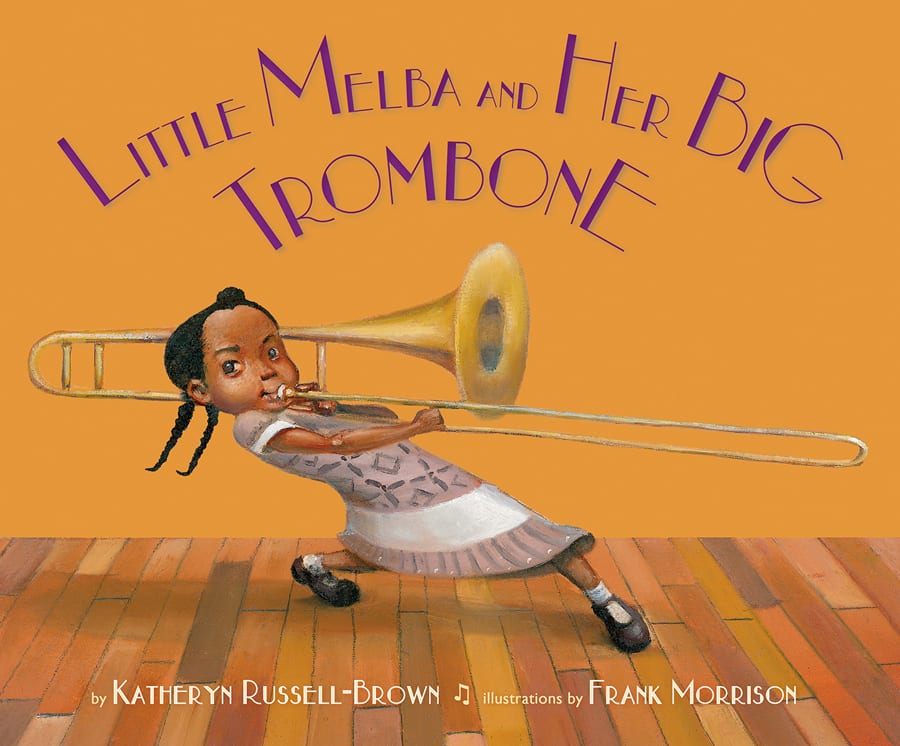 Little Melba and Her Big Trombone was one of my favorite books of 2014!  This swinging picture book biography (winner of a Coretta Scott King Illustrator Honor for Frank Morrison, yay!) tells the story of Melba Liston, a girl in the 1930s who was told little girls couldn't play trombones.  Of course, Melba picked that trombone up and mastered it – becoming the first woman to play trombone in big bands of the 1940s. After I read, and fell in love with this amazing book, I thought just one thing –
I HAVE TO HEAR SOME MELBA LISTON MUSIC!
After jamming out to Melba Liston, I started thinking about how I could share this book in programs.  It's a little too long to use in a story time, even one of our early readers sessions (which are geared at 4-7).  But I knew kids would love the illustrations and love the story of Melba's creativity, determination, and successes.  So….where and when to use it?
Then I thought waaaay back to one of my first summers programming – all the way back in 2009. That summer, I built a program around one of my favorite American artists – Jackson Pollock.  Specifically: we had a school-age program in the summer – it lasted about an hour and we were always looking for programmings.  I read the book Action Jackson and then we spread out paper, listening to some jazz and did Jackson Pollock proud.
The kids had a BLAST – I could actually see them splattering to the music – just like Jackson Pollock did. The book and the art and the music all came together in this tangible, memorable way. It was an awesome program
(me, rocking it in 2009 with Action Jackson and the kid's art. See how long I've loved my job?!)
I thought about Melba Liston's music and then I thought about that paint splatter and summer and school age kids and combining different literacies and … then I thought about all those cool picture book biographies about musicians that it's sometimes hard to find the right reader for and …
MEET THE MUSIC was born!
What's MEET THE MUSIC?  Let's look at a program outline!
When: Once a week during the summer programming blitz, when we have lots of kids and families coming in and looking for programs to share.
Who: School age kids – old enough to listen to longer stories and discuss them but still young enough to love picture books and being read to.  We'll have it open to ages 7+.
Why: Developing multiple literacies (music literacy!  visual literacy!  multicultural literacy!) and giving a spotlight to some books that might get lost in the biography section.  Also – these biographies do a great job highlighting multicultural and diverse lives and achievements. (So many POC, heck yes! And two of the books I selected are Schneider Family Book Award winners, spotlighting disabled protagonists who were successful musicians.)
What: Every week we chose an artist!  We read a biography about them and then listen to some of their music. TA-DAH. That's it, program done.  NOW you could build out from this.  You could encourage the kids to talk about the music afterwards: did it sound like they thought it would from the book?  Did the writer do a good job describing the music and the way it makes you feel?  How would THEY describe the music and the way it made them feel? What about the pictures?  How do music, words, and pictures all work together? You could extend that to an art activity – draw during or after the music.
I talked about this ideas with some of my favorite librarians at Midwinter – Kendra, Laura, and Cate (among others) and they each came up with ways this program might work in their communities.  Kendra thought about adding live music and turning it into a longer family program featuring community musicians.  THAT'S AMAZING! (see why I have the best PLN both online and when I get really lucky IRL?!)
And that's another thing I love about this program – it's flexible and it can grow and to fit YOUR library.
Don't believe you have enough books to power this program?  More like you don't have enough weeks to cover all the books.  Here's just a few of the titles I thought of. Look at the genres of music they span! Look at the different faces and illustrations!
And, of course, the cute program name: kids will be invited to meet the musicians by learning about their lives through the text and then meet the music by listening to it.
I can't wait to start the introductions!
WHAT DO YOU THINK?  This program is DEFINITELY read to be stolen and implemented at your library! Do you have modifications for the program that might work at your library or make it more engaging?  How about other suggested titles that might fit – I'm sure there are some awesome picture book biographies of classical musicians, for instance.  Do you think a program like this would be successful at YOUR library? Are YOU ready to meet the music?!
Leave me a comment here with all your thoughts or talk with me on Twitter.